Harley Davidson jacket offers riders a safe riding experience. With its unique quality and rare features that enhance comfort and functionality, one would usually ask how much my Harley Davidson jacket is worth? However, this answer depends on certain factors like the jacket's conditions and features.
Harley Davidson's jackets have a reputation for their stylish build; their primary purpose is to protect the rider. Hence, the resale value of one's Harley Davidson jacket depends on the safety details. Typically, a basic Harley-Davidson jacket costs between $90 and $650. However, one should be willing to pay more for more unique features. Most Harley Davidson jackets are genuine leather and have CE-approved body armor, which gives them a reasonable resale value.
This guide highlights the unique features of a Harley-Davidson jacket for seasoned riders and bike enthusiasts, its costs, and its benefits.
Are All Harley Davidson Jackets Made In The US?
Harley Davidson was founded in 1903 and first started production in Milwaukee, Wisconsin. Harley Davidson quickly earned its reputation as a "made-and-sold" in America company over the years. The US military used 20,000 Harley Davidson motorbikes in World War I.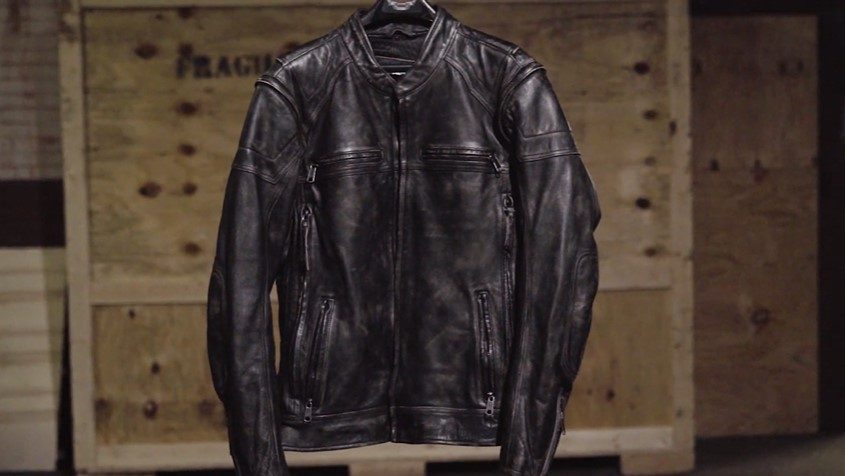 As all-American as Harley Davidson sounds, it is not all made-in-America as far as production goes. In 1918, Harley Davidson built factories in other countries like Australia and Japan, and he opened another in Brazil in 1998. Later in 2018, the company shifted production to China.
In a nutshell, Harley Davidson jackets are made in the same place as Harley Davidson's other products. Their factories are in Milwaukee, Wisconsin; York, Pennsylvania; and Kansas City, Missouri. Harley Davidson jackets are also produced in Adelaide, Australia; Manaus, Brazil; Bawal, India.
How Much Is My Harley Davidson Jacket Worth? Brand New, Resale, & Collector Editions
Typically, a Harley Davidson jacket will cost hundreds of dollars due to its unique features. The aerodynamic design, double seams, and reinforced stitching make the jackets high-priced. So, for those asking how much their Harley Davidson jacket is worth, the answer depends on a few factors and its features.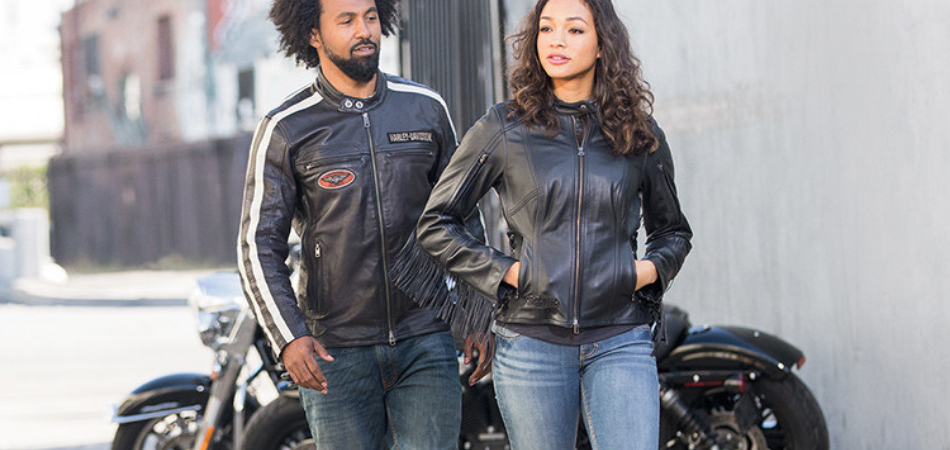 Below are some factors that will determine the resale value of a Harley Davidson jacket
The Condition Of The Jacket
Naturally, a Harley Davidson jacket will command a high resale value if kept in good condition. Harley Davidson makes their jackets from 100% cowhide leather. Plus, leather tends to look even better with age. However, leather still requires maintenance.
Hence, the jacket should be cleaned often with a bit of saddle soap to remove stains. Also, applying leather conditioners and storing the jacket in a breathable bag will help retain its resale value.
The Jacket's Design
Earlier designs from Harley Davidson were classic leather vests made from less durable materials. Newer designs, however, have sophisticated designs and detailing. Most riders will want a jacket reinforced to ensure safety. Therefore, a Harley Davidson jacket will be higher-valued if it has safety modifications.
The jacket should have zippered pockets and polyester lining. Also, it should have shoulder armor, abrasion-resistant, and other safety features. A Harley Davidson jacket with these features will have a high value. A vintage, classic Harley Davidson jacket will command an even higher price if sold to a collector.
Proof Of Authenticity
An original receipt will go a long way in hiking the resale value of a Harley Davidson jacket. However, if the coat is vintage, the original permit may no longer be available. In that case, the warranty and tag should suffice. If also not available, a person of authority can authenticate the jacket.
See Also: How to Check Harley Compensator?
Why Should You Use An Harley Davidson Jacket
Whether one is a biker or a leather enthusiast, the benefits of owning a Harley Davidson are apparent. Using a quality leather jacket like the Harley Davidson jacket has been shown by researchers to reduce motorcycle injuries. Aside from safety, the jacket also gives an edgy look that most people crave.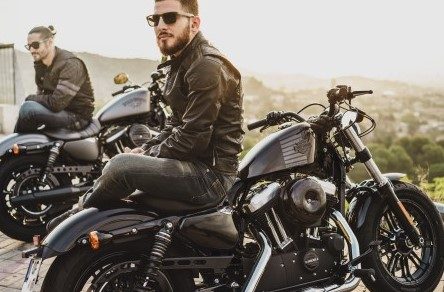 Below are the pros of using a Harley Davidson jacket:
1. Safety
Harley Davidson jackets are made from genuine leather. Genuine leather jackets are more protective than textile or mesh jackets. Researchers have shown that wearing quality protective clothing while riding has;
Reduced the need for hospitalization by seven days.
Reduced the need to be absent from work or school by 20 days after an accident.
Cut down the risk of sustaining permanent defects from injuries by 40%
However, it is essential to note that the protection gotten from a Harley Davidson jacket is dependent on its features. Low-budget Harley Davidson jackets will offer far less protection than their high-budget counterparts.
2. Provide Warmth
Harley Davidson leather jackets are ideal for riders who wish to ride in the winter. The jackets provide warmth by trapping body heat while riding. It keeps the rider from experiencing painful frostbites. Some Harley Davidson jackets also come with removable liners, which helps the user adjust if the weather changes.
3. Durability
A good motorcycle jacket should be resistant to scratches, tears, and punctures. And the Harley Davidson jacket ticks off all the boxes. Harley Davidson jackets are easy to clean and are made from durable material that will last many years.
4. Fashionable
Most people who wear Harley Davidson leather jackets are not motorcyclists. Harley Davidson produces jackets within the $90-100 range. Hence, they can be gotten solely for their design. The Harley Davidson jackets have a reputation for their trendy look, making them more valuable.
Drawbacks Of Using A Harley Davidson Jacket
After learning the benefits of using a jacket made by Harley Davidson, it may be surprising to know that there would be drawbacks to such a jacket. As good as using a Harley Davidson jacket sounds, it is not all roses.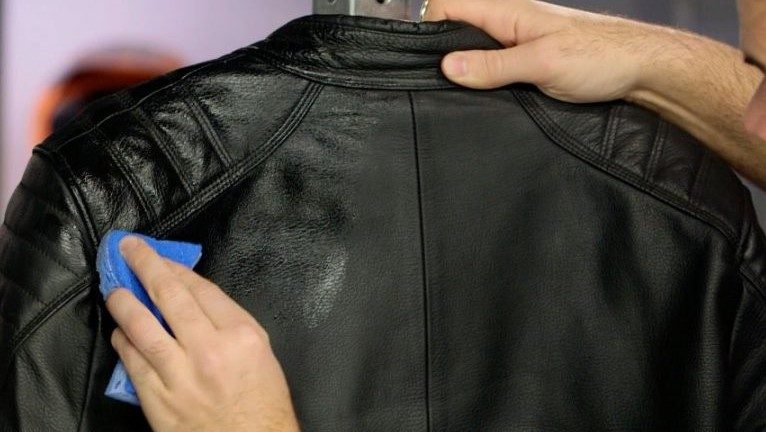 Highlighted below are the cons to using a Harley Davidson jacket;
Expensive
One of the apparent drawbacks of a Harley Davidson jacket is that many may find it unaffordable. Though Harley Davidson makes low-priced jackets, they are not suitable for motorcycle trips. The best Harley Davidson jackets cost hundreds of dollars. Even though the jackets may cost a lot for a good reason, it does not rule out that many cannot afford them.
It Can Be Fake
Harley Davidson is an American icon and a big brand. Hence, many fraudulent companies are starting to sell knock-offs of the Harley Davidson jacket. Some of these companies go as far as printing fake Harley Davidson logos on counterfeit jackets. To avoid getting scammed, the best place to get a Harley Davidson jacket is from their official stores.
Not Be Suitable In Warmer Climates
Harley Davidson jackets are natural leather. Genuine leather is made from animal fur and skin, suitable for warmth. However, a leather jacket's heat insulation may cause excess heat in warmer climates. During summer, mesh jackets are a better option than leather jackets
How Much Does A New Harley Davidson Jacket Cost?
A Harley Davidson jacket will cost anything from $90- $650. In the $90- $200 range can only purchase a jacket with a basic design and features. One should expect to pay more for a water-repellent jacket with a patented triple vest system.
Like other Harley Davidson products, the Harley Davidson jackets are of top-notch quality. The quality, features, and, of course, the brand's legacy make their jackets expensive. However, the Harley Davidson jacket catalog is wide enough to fit any budget.
It is important to note that a higher-priced Harley Davidson jacket will offer more protection and features. Features include CE-approved body armor, CoolCore technology, 3M Scotchlite reflective material, etc. The price of a Harley Davidson jacket depends on the qualities one is willing to get or forgo.
Are Harley Davidson Jackets Worth The Money?
Many motorcyclists have come out of accidents unscathed due to wearing protective gear. When it comes to offering optimum protection, a Harley Davidson jacket ranks high on the list. Though it may seem over-priced at first glance, a closer look at what the jacket offers should be convincing.
Harley Davidson jackets can also last a lifetime with reasonable use. Hence the user can be assured of getting value for their money. However, the answer to the question is relative and is based on an individual. A Harley Davidson jacket is only worth what one is willing to pay.
Final Words
Understanding the Harley Davidson brand is crucial to answering the question, "how much is my Harley Davidson jacket worth?". Harley Davidson has been in the business of making quality motorcycle products for a hundred years. Hence, one can expect a Harley Davidson jacket to be made with durable, protective material.
An original Harley Davidson jacket will retain its value and be worth much in the future. If sold to a collector, a vintage Harley Davidson jacket will be worth more than its market value.