Technological advancements have had far-reaching effects, even on motorcycling. Communication between modern bikers reveals how greatly technology has influenced the biking world. Intercoms and Bluetooth devices have enabled fellow riders to enjoy staying connected on the go.
From the beginning, Cardo and Sena stood out as the market leaders in motorcycle intercom systems among all these advancements. And as it seems, they aren't going to back down in their bid to grab the top spot anytime soon.
Through this Sena vs Cardo comparison guide, we'll help you understand how each brand's product differs from the other, so you can decide which one is best for you.
Overview of Sena Communication Systems
Founded in 1998, SENA is a global leader in Bluetooth innovation. The company excels in the production of first-class Bluetooth communication systems and devices. From motorcycle helmets to action cameras, they create high-quality gear that is perfect for every adventure.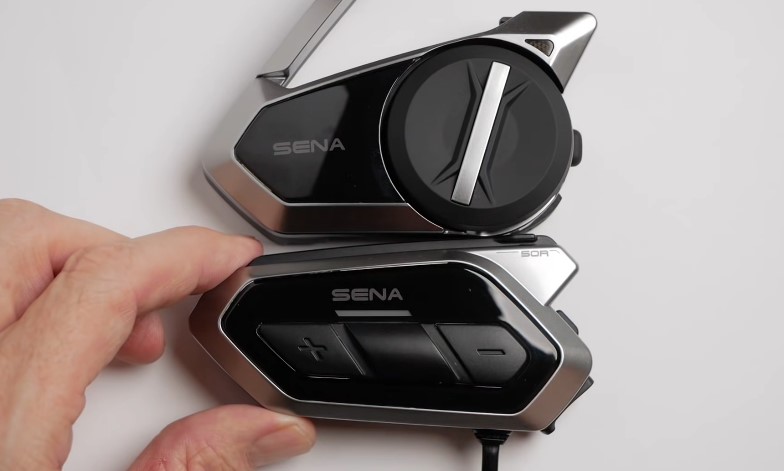 SENA's motorcycle Bluetooth intercoms offer various features, such as music sharing and phone calls. The latest 30K and 20S EVO models are the first in the world to offer Bluetooth 5.0 technology. This allows for a fast and stable connection between devices and clear HD audio quality.
Some of the other features that set SENA's products apart are their universal intercom compatibility and cross-brand pairing. This means you can connect with almost any other brand of motorcycle intercom system on the market.
SENA's products are also designed for easy installation and use. The company's motorcycle Bluetooth intercoms can be installed in just a few minutes, and they are very user-friendly.
Overview of Cardo Communication Systems
Cardo is another big name in the motorcycle intercom world. The company was founded in 2004 with the goal of providing riders with the best possible communication experience.
Their motorcycle Bluetooth intercoms offer many of the same features as SENA's products. However, they also have a few unique features of their own.
For example, Cardo's intercoms use the company's exclusive "Natural Voice Operation" technology. This allows you to control your intercom with just your voice, without having to remove your helmet or gloves.
Cardo's products are also known for technologies like Wind Noise Reduction and Advanced Audio Distribution Profile. These technologies work together to provide clear audio quality, even in high-wind conditions.
Like SENA, Cardo also offers universal intercom compatibility and cross-brand pairing. This means you can connect with almost any other brand of motorcycle intercom system on the market.
Sena Vs Cardo: Comparison Table
With the help of the comparison chart below, you can make your choice based on the specifics that matter most to you. Comparing and contrasting the two brands' products, prices, and features will enable you to match both brands with your needs.
| | | |
| --- | --- | --- |
| Factors | SENA | Cardo |
| Design | Convenient button placements, One knob for multiple functions | Embedded rubber and PTT front buttons |
| Waterproof Rating | Not labeled as waterproof | IP67 Waterproof |
| Installation | Plug and play | Assembly needed |
| Pairing | Multi-instance pairing at once, including cross-brand pairing | One at a time cross-brand pairing |
| Connectivity | Bluetooth 5.0, Mesh 2.0 | Bluetooth 4.1, Patented DMC |
| Range | 1 mile | 1.2 miles |
| Audio Quality | Sennheiser speakers with Automated volume adjustments | JBL speakers with Automatic Wind Noise Cancellation |
| Voice Command | Limited to several functions | Complete hands-free operation |
| Battery Life | 13 hours approx. | 15 hours approx. |
| Price | Around $300 | Around $340 |
What Are the Differences Between Sena and Cardo?
Let's now dive into a more detailed comparison of SENA and Cardo communication systems. Here, we'll compare the brands' two most popular models, the SENA 30K and the Cardo Packtalk Bold.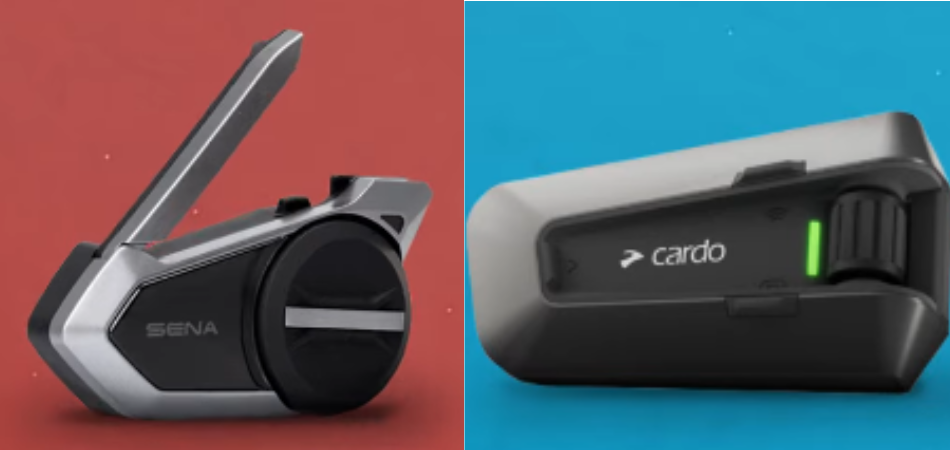 Design
The SENA 30K has a sleek, modern design. It's small and compact, making it easy to install in almost any helmet. The inner unit consists of two HD speakers and a mouthpiece sticking out from the central component while the large knob on the outer unit gives you all the controls you need.
Cardo Packtalk Bold, on the other hand, has a more industrial design, including corded and hybrid microphones with padded boosters. The main difference is that it has three PTT buttons on the front, which can be difficult to use with gloves on.
Yet, its waterproof and dustproof rating is IP67, compared to the SENA 30K's none, giving it the upper hand in terms of durability.
Installation
Both the SENA 30K and the Cardo Packtalk Bold are designed for easy installation. However, the SENA 30K is a bit easier to install since it's a plug-and-play system.
The Cardo Packtalk Bold, on the other hand, requires some assembly. You'll need to attach a few Velcros and glue pads to properly secure the main unit.
Pairing
Pairing the SENA 30K is a straightforward process. You just need to hold down the pairing button for a few seconds and it will automatically connect to your phone or other Bluetooth devices. The cross-brand pairing feature also allows you to connect with riders who are using different brands of motorcycle intercoms.
The Cardo Packtalk Bold is a little complicated. First, you need to put it into pairing mode by holding down the phone and music buttons at the same time. Then, you need to find it in your phone's Bluetooth settings and connect to it. Cardo also supports cross-brand pairing; the only catch is that you need to connect to each device separately.
Connectivity and Range
The SENA 30K uses Bluetooth 5.0 technology and supports Mesh 2.0 intercoms, which allow it to connect to 24 participants in a private group at a distance of up to 1.6 kilometers (1 mile).
And a big advantage is that you can extend the range to up to 5 miles by limiting the user number to six. But you can take that number to nearly 30,000 when in a public group.
The Cardo Packtalk Bold uses Bluetooth 4.1 and can connect to 15 riders in a private group at a distance of up to 2 kilometers (1.2 miles). Through its patented Dynamic Mesh Communication technology, Cardo claims that the system can handle an infinite number of users.
Audio Quality
Audio quality is where Cardo beats out SENA by some notable margins. The Cardo Packtalk Bold integrates JBL speakers that deliver natural and clear sound, even at high speeds. The system also uses a Wind Noise Reduction algorithm that suppresses background noise so you can hear your friends clearly, even when you're riding at high speeds.
The SENA 30K uses Sennheiser speakers that deliver clear sound, but they don't perform as well as Cardo in terms of wind noise reduction. However, SENA boasts automatic volume control that automatically adjusts the volume according to the speed of your motorcycle, which is a nice touch.
Voice Command
Both the SENA 30K and the Cardo Packtalk Bold support voice commands. However, the SENA 30K's voice command feature is more limited since it only supports a few basic commands.
The Cardo Packtalk Bold, on the other hand, has a more advanced voice command feature that allows you to control all the system's functions using voice commands. Like Siri in iOS, you can activate its voice command feature by saying "Hey Cardo," offering a hands-free experience like no other.
Battery Life
Both the SENA 30K and the Cardo Packtalk Bold have impressive battery life. The SENA 30K can last up to 13 hours in intercom mode, while the Cardo Packtalk Bold can last up to 15 hours. So unless you ride 15-16 hours at stretch, you won't have to worry about either system running out of juice in the middle of a ride.
Price
SENA 30K and Cardo Packtalk bold are both high-end motorcycle intercoms with similar features and performance. They share a close price range with the SENA 30K being marginally cheaper. You can find the SENA 30K for around $300 while the Cardo Packtalk Bold will set you back by $340.
Sena 30K vs Cardo Packtalk Bold: Which One Should You Buy?
The SENA 30K and the Cardo Packtalk Bold are both excellent motorcycle intercoms with a host of features that offer an immersive riding experience. It's pretty much a close call between the two, but if we had to choose one, we would go with the Cardo Packtalk Bold.
Cardo Packtalk Bold's JBL speakers offer natural and clear sound, while its Wind Noise Reduction algorithm suppresses background noise quite effectively. Add to that its advanced voice command feature and Cardo's intercom emerges as the better option, albeit by a small margin.
However, the SENA 30K barely misses out and is still a great option, especially if you're looking for an intercom that's easy to install, set up, and use. And its slightly lower price tag might just tip the scales in its favor for some riders. So, it all boils down to your preference in the end.
You May Also Read: Can You Listen to Music on a Motorcycle?
Conclusion
So, there you have it. Hopefully, our SENA vs Cardo comparison has helped you decide which motorcycle intercom system is the right one for you.
You can, of course, explore other models from both brands if you're not entirely convinced by either of the two we covered here. SENA, for instance, has the 20S EVO intercom as a more affordable alternative. Similarly, Cardo offers the Packtalk Slim for riders who want something much smaller and lighter.
So, whatever your needs may be, you're sure to find a motorcycle intercom system that's just right for you. Good luck!