Road King is a popular bike series of Harley-Davidson. They make this fame and name for their classical look and unique features. But the other side of the coin is- some years of Road King gain a lot of complaints such as 1996, 1997, 1999, 2000, 2003, 2004, 2006, 2014.
Throughout this guide, I will walk you through:
What Year Road King to stay away from?
Best Road King Years You Can Consider
Road King Alternatives
Without further ado, let's get started right here.
What Road King Years To Avoid?
The following Road King years you should avoid if you decide to buy a used motorcycle.
1996 Harley Road King
1997 Harley Road King
1999 Harley Road King
2000 Harley Road King
2003 Harley Road King
2004 Harley Road King
2006 Harley Road King
2014 Harley Road King
1996 Harley Road King Issues
Most seats don't fit on 1996 Road King if you plan on swapping out the seats. This bike has old-style mounts. So, the seats you will choose for it will not fit this bike.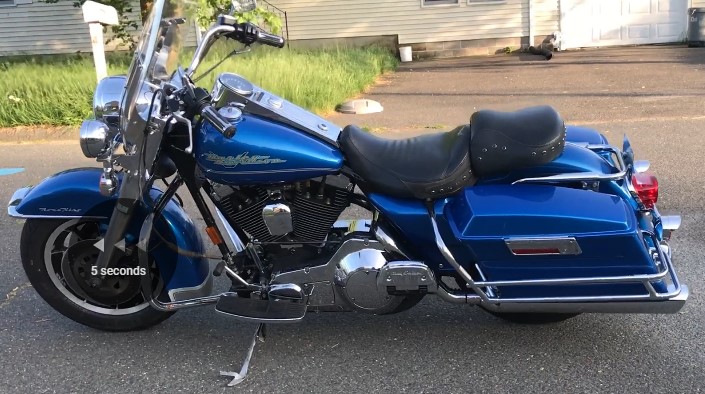 Secondly, the ECM of the 1996 Road King is not programmable if this bike comes with fuel injection. Making a modification with MM fuel injection will not bring any good results. The only way you can get the best out of the ECM is to change the ECM to a 1997 or newer one.
However, I don't think you should shy away from the 96 Road King if the condition and the price are right. Just keep in mind; that you need to spend an extra $500 for an ECM if the bike is fuel injected.
1997 Harley Road King Issues
Cam bearing or INA bearing is the only issue you will encounter if you choose 1997 Road King. The Harley-Davidson uses cheap INA bearings for the 1997 Road King. Inside this bearing, you can see little needles. These little metal cages separate the bearing or the needles. Besides, these tend to break especially when you take them apart.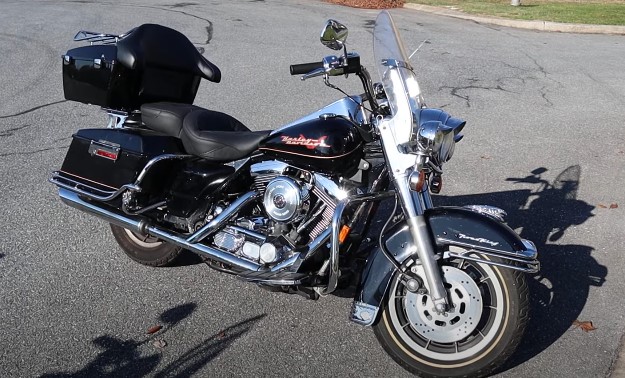 Other less frequent issues like stalling or engine running rough you may notice on the 1997 Fuel Injected Road King. However, this issue will occur due to a dirty throttle body or defective head temperature sensor.
1999 Harley Road King Issues
If you decide to get a 1999 Harley Road King, you should deal with several problems. Cheap cam bearings, no sealed wheel bearings, and premature chain tensioner failures are some common issues of the 1999 Harley Road King.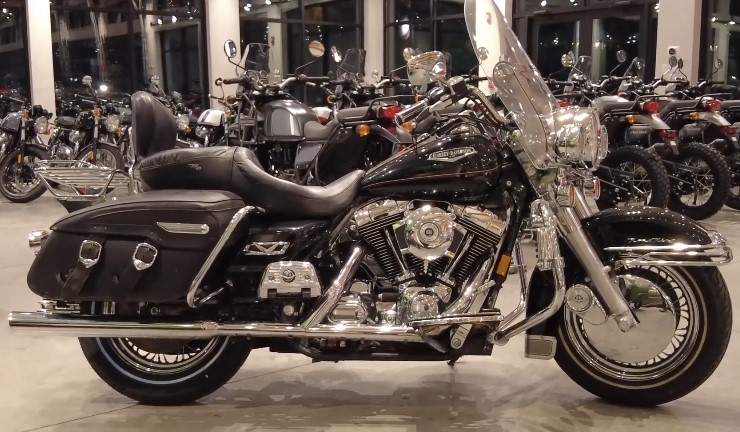 The good news is- you can easily overcome those issues by upgrading the cam bearing. As this bike has no sealed wheel bearings, you should get some sealed wheel bearings every time you change the tires.
Another best part of the 1999 Harley Road King is- it comes with a carburetor, not a fuel injection. So, you don't need to deal with the fuel injection problems anymore.
2000 Harley Road King Issues
The uncomfortable seat is the main issue with the 2000 Harley Road King. Many owners of this bike complain that their butts start to ache after riding it about a hundred miles. In short, the stock passenger seats are uncomfortable.
The top of the windshield is right at eye level, which is quite annoying. It would be best if Harley lowers this a few inches. Turns out, the handlebar is wide.
The 2000 Harley Road King's engine also makes a loud noise. You will hear a rattling sound if you drive this bike on the mild throttle. However, the noise level will start to reduce if you increase the throttle.
Some riders even found the rear foot brake a problem as they need to move their foot back to actuate it.
2003 Harley Road King Issues
Most riders who have 2003 RK with twin cams have had issues with cam chain tensioning shoes and cam bearings. These parts are cheap and they come apart quickly. If you want to give the 2003 Road King a shot, you must replace these bike components.
Besides, there is an oil leaking problem. Oil is leaking out of the rear left when the oil pan is on the jiffy stand. This leak is also stoppable, which requires a few bucks from your wallet to fix.
2004 Harley Road King Issues
The seat is not comfortable! It's a common complaint who owns a Road King. And 2004 Harley Road King is not beyond this complaint. Every rider says their seat is a bit uncomfortable for long trips, especially the short riders.  However, if you're a short rider and want to use a 2004 Harley Road King, it would be best if you go for the specialized short rider seats.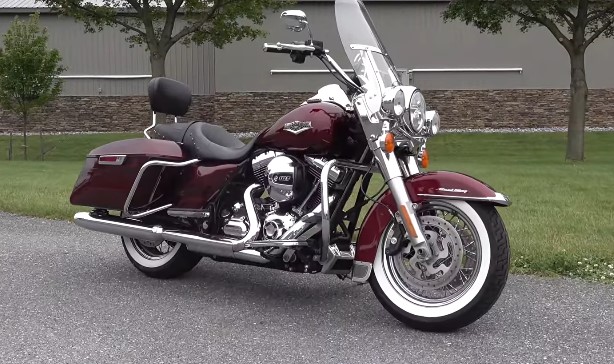 Some owners also complain that a few chrome pieces start rusting. Though it's not a big deal, you need to spend some bucks to replace those parts.
2006 Harley Road King Issues
The 2006 Harley Road King comes with an 8-degree injector, which is a real pain. It seems that the bike is running cold. You won't escape from this problem unless you upgrade the injector to a 25-degree injector.
Besides, the front motor mount and the cam chain tensioner of this Road King Year are faulty. None of the parts except the cam is really pricey. So, you don't need to shy away from a 2006 Harley Road King unless you are ready to spend some real bucks on cam.
2014 Harley Road King Issues
Hydraulic Clutch is the main issue with the 2014 Harley Road King Issues. The hydraulic clutch of this bike may not disengage, and it might crash. The company itself connected 19 accidents and some of them occurred during safety tests. The only way you can fix this issue is to rebuild the master clutch cylinder.
Road King Best Years You Can Consider
You can consider the following years if you have a strong attraction to Harley-Davidson Road King.
2002 Road King
So far, 2002 Road King is my best choice. I recommend this year for its 88 engine. It features stronger Tim ken bearings and a better swing arm. The manufacturer also upgrades it to 117 NM, which gives quick acceleration.
Other features I love most about the 2002 Road King Classic are its air-adjustable rear touring suspension and the electric cruise control.
2005 Road King
My next recommendation for you is the 2005 Harley-Davidson Road King. Clean front and rear fenders, slash-cut mufflers, and a pull-beach handlebar are some goodies that encourage me to add it to the recommendation list.
2016 Road King
The impressive model every Harley-Davidson made! This is what I can say about 2016 Road King. Apart from its look, it's the fastest bike among the Road King series. It features a 1600cc 103 Engine with a 6-speed manual transmission. Every part of this bike is elegant like its engine protection bar and saddlebags. Also, it comes with a new ABS system. In short, it is one of the best Road King bikes.
Road King Alternatives
Here are some bikes from other brands you can consider as an alternative to Road King.
2022 Royal Enfield Meteor 350
2022 Yamaha Bolt R-Spec
2022 Suzuki Boulevard M109R
2022 Honda Fury ABS
2022 Kawasaki Vulcan 900 Classic
Honestly, it's really tough to find an alternative to Road King that meets the balance between look and function. What I suggest to you is to find a certified vendor that offers custom-bike touring bikes. Keep exploring as you can find a lot of bikes on the market with aftermarket vendors.
FAQ's
Have more queries on this topic then have a look at the following FAQ section and get some of the answers to the most frequently asked questions.
What is the difference between road king and road king special?
The main difference between the standard Road King and the Road King Special is the engine they use. A standard Road King uses a 107 Milwaukee V-twin engine. On the other hand, the Road King Special integrates a little bigger motor, 114 Milwaukee Eight V-twin. Indeed, you will get more power and torque from the Special.
How many miles will a road king last?
A Harley Road King will last over 100, 00o miles if you maintain the bike according to the manufacturer's guidelines and change the fluid in time.
Can you lower a road king?
Yes, you can lower a Road King a bit by installing lowering kits. It's not a DIY task. In other words, you should bring your Road King to a professional to make this change.
Conclusion
Undoubtedly, Road King is the sexiest bike and this series offers a stylish, comfortable, and speedy cruiser bike. However, some years of Road King have some downsides. Fortunately, I mentioned all the Road King Years you should avoid and broke down why you should neglect them.
If you wish to buy a used Road King avoid those years I recommended and give it a try to those I recommended. Alternatively, you can go for an alternative to the Road King. Indeed, it's up to you.