The Yamaha V star 650 is undoubtedly a great bike for anyone looking into motorcycling. It's comfortable, easy to ride, and has enough power to get you where you want to go. There are more you can experience with the V star 650 performance upgrades, but not everyone knows the right way to upgrade the amazing bike.
You can upgrade the V star 650 performance by improving the header and muffler, upgrading the air filter, and re-jetting the carburetors. Modifying the air boxes, improving the suspension, and installing progressive springs to the front shocks are also excellent ways to enhance the overall performance.
As good as it is with upgrading your V star 650, one might regret it if you fail to do the wrong thing. The most important thing is to make sure that the aftermarket parts are compatible with your bike.
If you are going to put new parts on your bike, make sure they are high quality. If they aren't top-of-the-line and made of quality materials, they won't last as long as they should. In this article, I'll go over all the details on how you can upgrade your Yamaha V star 650 performance.
Is Yamaha V-Star 650 A Good Bike In 2022?
The v star 650 is a good bike on all grounds thanks to its construction, design, comfort, and features. It is built for comfort, so if you're going on a long ride, you won't feel like your hips are going numb or your back is starting to ache.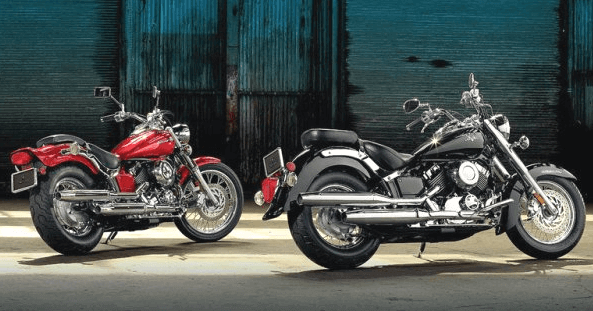 Some other advantages of Yamaha V Star 650 are mentioned below.
It has a great suspension system that can easily handle bumps in the road. So you don't have to worry even if you run over a pothole.
With V star 650 on your side, no worries on your comfort and convenience. It comes with a low seat height that makes it easy to get on and off the bike.
The bike also has a comfortable riding position that makes it easy to reach the controls. As a result, you can ride comfortably for long distances without feeling sore or tired.
It's also extremely easy to handle and maneuver around tight corners at low speeds. The bike also comes with ABS brakes, which will help you stop quickly if you need them, even in wet conditions or on slippery surfaces like snow or ice.
The engine is such a beast as it boasts of great acceleration. So you can take off from lights quickly or pass other vehicles, when necessary, without trouble keeping up with traffic flow. However, we recommend obeying laws regarding speed limits.
Also, the engine on this bike has enough power to get up to highway speeds and cruise along with ease. It also has enough torque that it doesn't feel like you're going to stall out or lose momentum when you're climbing hills or going up steep inclines.
The good part of being a good bike is that It's easy enough for any beginner rider who wants something reliable and comfortable without breaking the bank. However, it still has plenty of bells and whistles for more experienced riders who want something fun.
How Fast Does A Yamaha V Star 650 Go?
The Yamaha V Star 650 has a high speed of 103 mph and can go from 0 to 60 in 4.6 seconds. Also, depending on your weight, the Yamaha V Star 650 can reach a maximum speed of 124 to 115 miles per hour or even faster.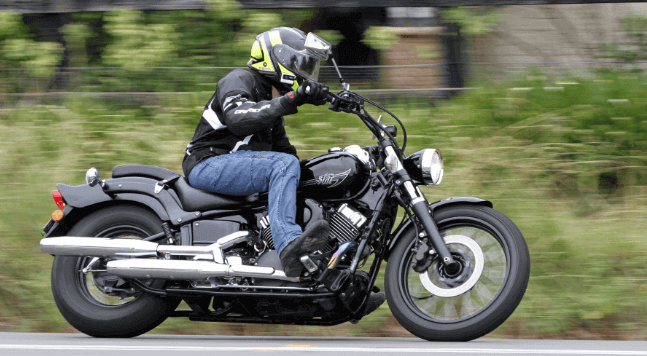 It is equipped with a five-speed transmission, allowing the driver to quickly switch gears depending on the situation. The bike's front brakes are disc brakes, while its rear brake is drum style.
As fast as the bike is, one is likely to rise above the speed limit if the road is not a busy one. Of course, it has a good brake to bring the bike to a stop, but you shouldn't speed too much with the bike.
Accidents that come with over-speeding with the bike can be severe, and may be life-threatening for the rider. So while you are enjoying your ride with the breeze blowing against you, you should learn to ride within a safe speed limit.
Top 6 Yamaha V Star 650 Performance Upgrades Tips In 2022
The V-Star 650 is a nice, affordable motorcycle from Yamaha. However, many V-Star owners want more power from the engine. The secret is simple: you get what you put into it out of an engine. If you want more power, follow the tips outlined below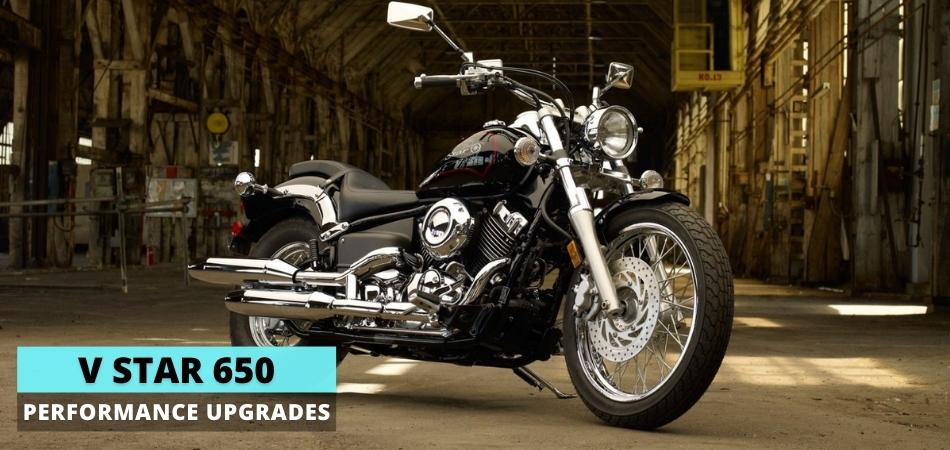 1. Changing the Header and Muffler
If you own a V Star 650, adding performance upgrades will give you a different riding experience. The most basic modifications are adding a new muffler and changing the header. It will help how your motorcycle looks, handles, and performs on the road.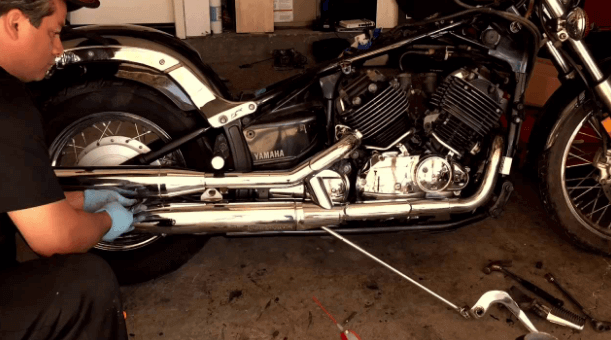 Changing the header and muffler (pipes) improves the look of your bike and improves performance by improving exhaust flow.
This upgrade is not new among experienced riders. Many use this method to add extra performance to their V Star ride. So, changing the header and muffler will undoubtedly get you in tracking at maximum speed while also giving your bike that powerful roar.
2. Upgrading the Air Filter
The air filter is the first element of engine performance, so changing it is highly recommended. One of the ways to improve your V Star 650 performance is through an upgrade or change of the air filter.
The right thing you have to do is get the quality one that fits your bike. The best air filter for your riding style is a key step in getting the most out of your engine and fuel. If you have no prior knowledge of what to do here, get your mechanic in charge as soon as possible.
3. Re-Jetting the Carburetors
Re-jetting the carbs of the V Star 650 will help you get that power and good throttle response out of your bike. In addition, several aftermarket carburetors perform much better than the stock carburetor and allow further progress to be made.
Just ensure you seek the advice of your mechanic before you do anything. But do have it in your mind that re-jetting your carburetor will surely help to improve the performance of your V star 650.
4. Modifying the Air Boxes
The air box's snorkel and air filter element is designed to increase breathing efficiency. And this allows extra airflow into your engine.
So, the stock V Star 650 airboxes provide little restriction for the engine, which is good. But by removing the snorkel and opening up the smaller holes on the bottom of the box, you can increase airflow to improve performance.
5. Improving the Suspension
The important upgrade you can do to your bike is the suspension. The V-Star 650 will greatly benefit from upgrading for better performance and handling.
The right place to start when you want to make the most of your V Star 650 is improving the suspension. You can't go wrong with replacing the springs with stiffer ones. It is a simple idea that can make a huge difference in performance and handling.
6. Installing Progressive Springs to The Front Shocks
Installing progressive springs to the front shocks will surely help your V star 650. Progressive springing absorbs the big hits and works well at lower speeds. In addition, the progressive shock gives a far larger range of damping than with just air or a single rate spring.
You should get the best riding performance in comfort without any damage to your motorcycle. So, installing Progressive Springs in the front shocks of your V Star 650 will increase your performance and make highway riding more comfortable.
Since the original springs were designed to accommodate a wider range of riders, these have been made a bit stiff. Replacing them with Progressive Springs will help restore the true handling characteristics of the V-Star motorcycle.
Conclusion
This page discusses the best V star 650 performance upgrades. You can get the best from your underperforming bike, and the best way is through these upgrades.
I discussed all the available performance upgrades on this page. Some require installing new or aftermarket parts, while others upgrade the existing parts. If you're not sure how to do these, it's best to seek professional help.