Wearing motorcycle boots is common fashion wear that bikers to ensure both style and safety. In terms of safety, what comes naturally with motorcycle boots are jeans that ensure aesthetics, insulation, and safety. However, when you're wearing the boots with jeans, things might get a little confusing as the jeans aren't as easy as twill pants to blend in.
Now the question is, how to wear motorcycle boots with jeans, without struggling to snug?
Well, you have to choose the right jeans that go with your outfit and have the right ankle design. Then, choose your style (over, in, or parallel to the ankle, and secure loose ends.
There are other things to consider if you're looking for a neat, clean, and robust outlook to it. Let's go through the article and show you the tricks of wearing boots like a pro in no time.
How to Wear Motorcycle Boots With Jeans: A Detailed Guideline
Motorcycle boots are one of the favorite trends of this season. The first and foremost duty of yours is to ensure safety and comfort while you are wearing boots with jeans.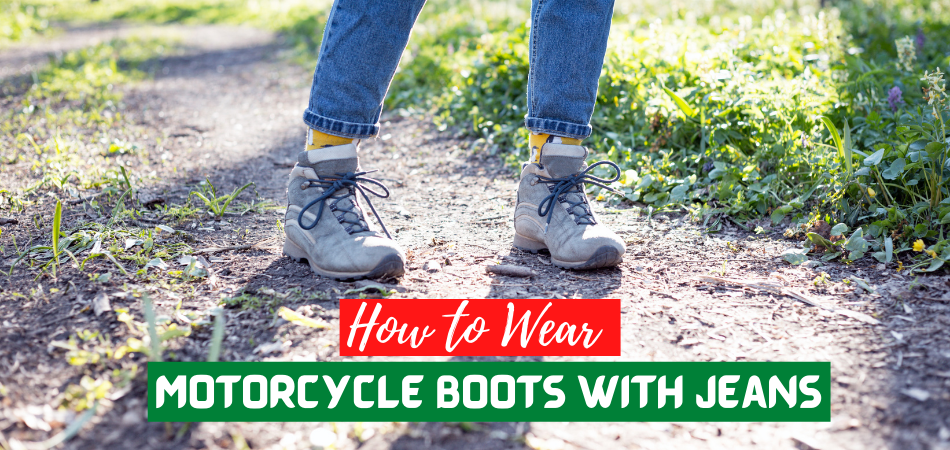 Most people choose jeans as their outfit with boots for a better look. Well, depending on the types of boots and the nature of riding, you might see differences in a few cases.
But in most cases, wearing boots are much similar. Before wearing, you have to follow some tricks to pair your boots with the jeans. Let's focus on 3 of the most effective tips that you should follow in wearing motorcycle boots with jeans.
Choose the Perfect Biker Boots
If you want to use a pair of boots that suits all weather, then picking a waterproof pair will be the best option for you.
Biker boots are well designed for wearing for long hours and to support you in the colder part of the year. Here are the tips to know while choosing your bike boot:
Take a look at the boots' label to ensure that you can use them all around the year.
Choose the color of the boots depending on your attire or jeans type and riding style.
The addition of chains, laces, studs, snaps, or buckles surely gives a new height to the boots.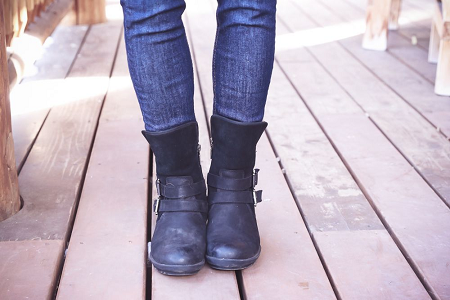 Based on the brand and style, different types of materials are used to make a pair of biker boots. Always try to choose the boots that carry rubber soles if you want to wear the boots in times of bike riding. Rubber soles also help to prevent the scratch on the bike as well.
Ensure that your foot moves freely inside the boots, and you feel comfortable wearing them. Don't choose an oversized boot or a small boot.

Try at least 3-4 pairs to pick the most comfortable one. Free and comfortable movement of your ankle and foot inside the boots makes the entire day enjoyable.
If you have wider feet, then try to choose motorcycle boots for wide feet, because small boots create so many difficulties all day.
Create Manly Costume
If you want a casual outlook, pair your motor boots with straight-leg jeans. Straight-leg jeans have to fit well over the motorbike boots and create a smooth silhouette. You can add a hoodie, tee, or another casual outfit for meeting with friends, shopping, or running errands.
For example, you can wear distressed jeans and a graphic tee with motorcycle boots.
Other tips to planning your costume would be:
You can wear your biker boots with the proper outfits not only at work but also at special events. Only adding a classier top or nice trousers with motorbike boots provides you suitable look for any informal occasions.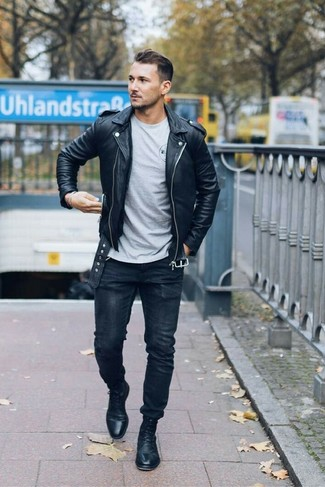 If you want to get a trendy look without any effort, then it would be wise to pair your biker boots with cuffed jeans. You can go for 1 cuff rather than roll up the jeans up to 2 inches or 5.1 cm. This strategy will help you to highlight the boots and to draw the attention of others.
For instance, pair biker boots and cuffed jeans with a tee and cap.
Nowadays, the majority of people prefer a classy look. If you want a dashing, attractive, and classic look, then put on a black leather jacket with your biker boots.
Wearing denim jeans and a leather jacket has been popular for a few decades. To emulate the style, you can pair your boots with a black leather jacket, dark washing denim jeans, and a light-colored tee.
Styling of Pretty Woman
For a smart everyday look, tuck your skinny jeans into your motorbike boots. Skinny jeans match perfectly with biker boots as it fits easily into the boots. If you want a casual vibe, then you can put on a charming blouse or rock a tee.
➢ For instance, you can make an outstanding look by pairing your biker boots with skinny jeans on a holiday. A concert T-shirt, or a hoodie while you meet up with friends. A patterned sweater also suits perfectly with biker boots and skinny jeans.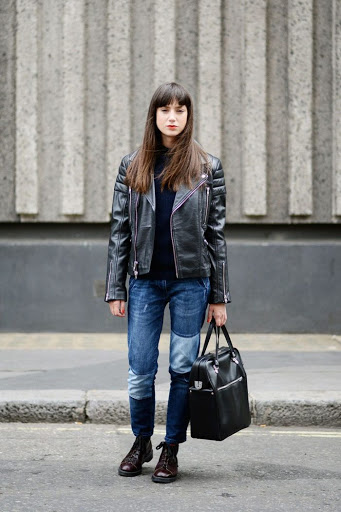 ➢  If you want to focus on your outfits, then pick a  busy pattern and bright color leggings with the biker boots.
For an outlook of dramatic flair, you can select patterned leggings, a simple top, and some accessories to tie up the look.
Bright blueprint leggings can look charming with a black simple top and motorbike boots. You can also add bracelets and earrings to finish off with a fantastic look.
➢  Balancing out the look is very important for having a casual vibe. By pairing a feminine dress with biker boots, you can bring contrast to the outfit.
A leather jacket would look pretty on top of a flower-patterned dress while they are paired with motorbike boots.
➢   You can show off the biker boots by wearing ankle-long jeans. In warmer months,  you can pick a pair of shorts or capri pants with biker boots as well.
Final Thoughts
Comfortable and well-sized motorcycle boots make your outfit stand out from others. But choosing a perfect pair of motorcycle boots and wearing it with jeans is a bit tricky.
Oversized motorcycle boots can ruin your day, on the other hand, a perfect pair can make your day more enjoyable. On the contrary, wearing the wrong size and design of jeans can ruin the look of the boots as well.
Now that you know how to wear motorcycle boots with jeans, you have got the proper idea about how to wear motorcycle boots with jeans. Now, choose a perfect one and enjoy your outfit!