Helmets provide the rider with safety and comfort while on the road; however, an aesthetically pleasing helmet adds more beauty and fun to the experience. Hence, it is vital to know how to customize your motorcycle helmet for a difference. While helmets are good for protecting riders, a beautifully customized helmet makes a strong art statement and impression.
It is easy to learn how to customize your motorcycle helmet with just about any art, sticker, or decal needed to give your helmet a unique look. Therefore, It is not necessary to buy a new helmet for customization. Bikers can transform old helmets into customized masterpieces. However, as customization is the primary purpose, safety should always be a priority.
This article will inform readers how they can turn their old helmets into beautiful works of art.
Can You Customize Your Own Motorcycle Helmet At Home?
While it is true that painting is a big part of helmet customization, even a simple sticker or a little decal might be all a rider needs to own a custom-made helmet. Hence, it is safe to say that helmet customization is possible at home. Whatever one decides to go for, the result must be unique and appealing to the rider. It is essential to know the helmet's material to choose the most suitable paint. If the painter isn't sure what paint to use, it is advisable to call the manufacturer and ask if their color applies to motorcycle helmets.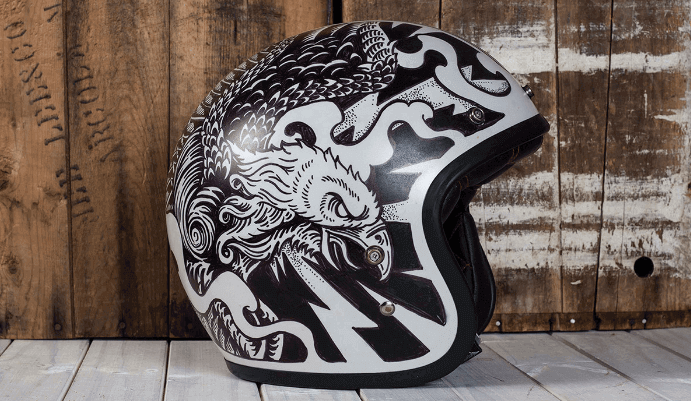 There are different ways to customize a motorcycle helmet. The method will depend on what the rider wants or can afford. The primary ways to make a custom helmet at home include; decal, painting, and airbrushing. However, painting skills are essential for customizing a motorcycle helmet.
How To Customize Your Own Motorcycle Helmet At Home?
The great thing about customization is the freedom of expression the activity grants the user. Motorcycle users can paint their helmets depending on their skill, goals, and how much time they are willing to invest.
The following paragraphs will highlight some key ways to customize a motorcycle helmet.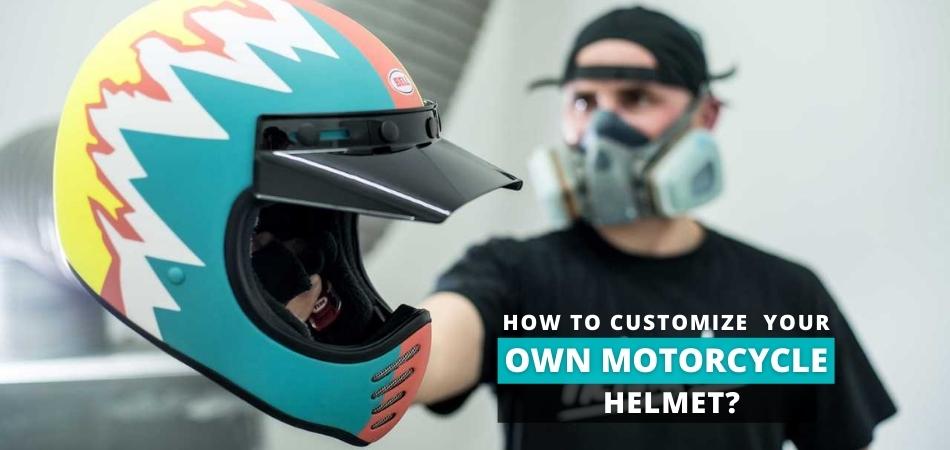 1. Painting
Many helmets are available in different color options. If one is looking for a specific design in their desired color, a paint job is the best bet. The most common colors that many riders choose are bright ones. Colors like green, magenta, and violet are trendy amongst bikers. However, people who feel more creative can add art using paint to bring out the beauty of the helmet.
It is more cost-effective for those with painting skills who can paint on surfaces such as a helmet to do the job themselves. One can also opt to use a professional if they do not possess the right skills to paint a helmet.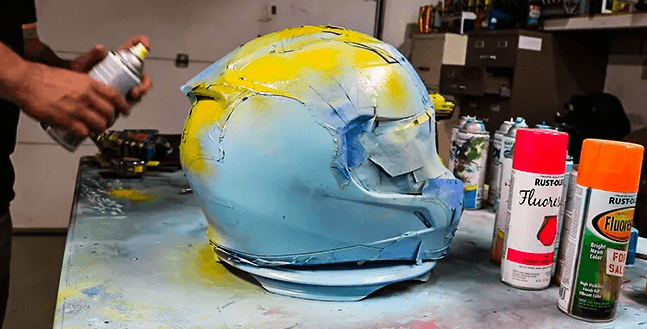 Painting the motorcycle helmet can be done using a paintbrush or an airbrush. Choosing a good brush that can spread evenly on the helmet is necessary. It is also vital to note that not every painting will apply adequately to the helmet's surface, so careful selection must be made when choosing the paint.
Before starting the paint job, the painter should clean the helmet's surface with warm water. Cleaning the surface will remove dust and particles that may hamper the quality of the result. Next is to remove any detachable parts. It is essential to remove screws, visors, and straps to avoid getting stained by dirty oil.
The first coat of paint has to be applied and left to dry. Then, the second coat is applied after the first layer is dried thoroughly. After drying, the painter can apply a layer of urethane. The urethane serves as a shield that keeps the new paint from dust. Also, urethane gives the helmet a glossy and highly finished look. However, painting with an airbrush should only be done by experts with the right equipment.
2. Decals
Using decals is the easiest way to know how to customize your motorcycle helmet. Decals are inexpensive, readily available, and come in many shapes. It is possible to buy decals in bulk, which means that the rider can change the design on their helmets as frequently as they wish.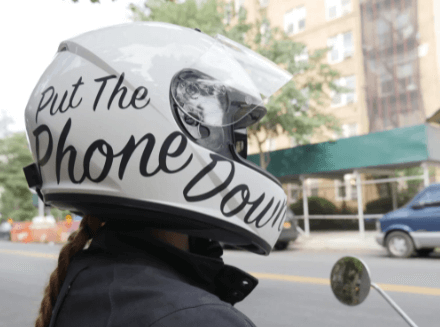 Before placing the decals, the helmet's surface has to be cleaned. If the helmet surface is dirty, the decals won't stick well on the helmet. After the helmet is cleaned and ready to be designed, one should carefully take it out and apply it to the helmet's surface. The simple tip to properly sticking the decal is by getting the middle of the decal to touch the helmet's character first. After the middle sticks, one can use their finger to lay down the ends.
The decal should have no wrinkles or rough bumps. It should also feel smooth to the touch when properly applied.
3. Skins
Bikers prefer skins because they cover the helmet better due to their size. These skins are water-resistant due to materials such as polyester. Skins are applied similarly to decals. They are perfect for riders who wish to hide dents and scratch marks on their helmets. They are usually available for sale online or in walk-in-stores.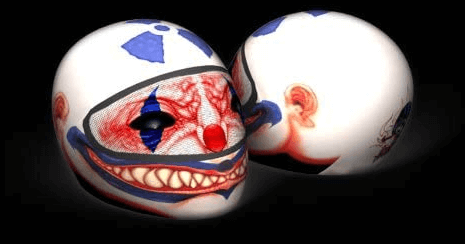 How Much Does It Cost To Customize Your Own Motorcycle Helmet
Helmet customizations cost about thirty dollars if it is done using skins, decals, or airbrushes. However, the price can go as high as three hundred to five hundred dollars for people who want custom designs.
What Are The Benefits Of Customizing Your Motorcycle Helmet?
Many benefits come with customizing a motorcycle helmet. One notable benefit is safety. Customizing a motorcycle helmet will help reduce the chances of injury when riding. If one has an open-face helmet with a face mask, it becomes beneficial for keeping bugs away from the mouth. Also, sun protection is another benefit of customizing a helmet, especially during long-distance rides. Finally, custom helmets will allow the rider to make art or personal expression using their helmets.
Conclusion
Knowing how to customize your motorcycle helmet adds more details and fun to one's riding experience. Hence, with simple items like paints and decals, one can achieve a unique look. So, careful thoughts and adequate preparation must be considered before starting. However, one should not forget to make sure that their customizations aren't just about the glow but also lolsafety.