Traveling across the countryside with a motorcycle can be super exciting, only if you know how to tackle the challenges. One of these challenges is to find a place where to sleep. When riding a motorcycle cross country, you need to make preparations for accommodation options that suit your budget and how comfortable the place is.
A motorcycle trip offers a wide variety of sleeping options such as hostels, camping, cheap hotels, or fancy motels-everything works. However, what makes the real difference is how secure the place is for you and your bike. This article talks about the final preparations and various safety tips to follow when looking for places to sleep during a motorcycle trip across the countryside. Let's get to it.
How Do You Prepare For a Motorcycle Cross Country Trip?
You will need to consider a few things before embarking on a motorcycle trip across the country. First of all, you need to decide what kind of trip you want to make, whether a tour or traveling. If you plan to travel across the United States on a motorbike, you should consider taking a dual sports bike or a cruiser. While a sports bike is more fun, a cruiser can make the trip more convenient.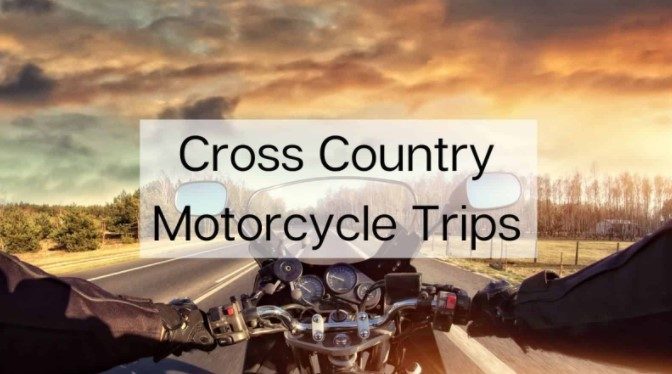 But, that's not all. Below are a few things to take into consideration before starting your motorcycle trip:
Choosing the Route to Take: Before you leave on your motorcycle trip across the country, ensure to pick the route to take and your end destination. You can use a GPS to map out the way and calculate your estimated arrival time.
Calculating the Distance: One of the main factors to consider before starting a motorcycle trip is how long the distance is. It is no use embarking on the journey and getting stuck or tired on the way without knowing the space you intend to travel each day.
Weather Condition: Having prior knowledge of the weather conditions will give you an idea of what to expect during your motorcycle trip across the country. You can expect cold nights and cooler days if you are traveling early in the season. On the other hand, you can expect the weather to be wet if you move towards the north.
Where to Stop for Fuel: While planning a motorcycle trip across the country, you must consider the various gas stations to stop for fuel. Knowing where to stop to refill is a good strategy that makes sure you don't run out of power on the way.
What Luggage to Pack?
Packing the necessary things you will need for the journey will make your motorcycle trip across the country easier. It is better to be over-prepared for a trip by carrying extra weight than under-prepared.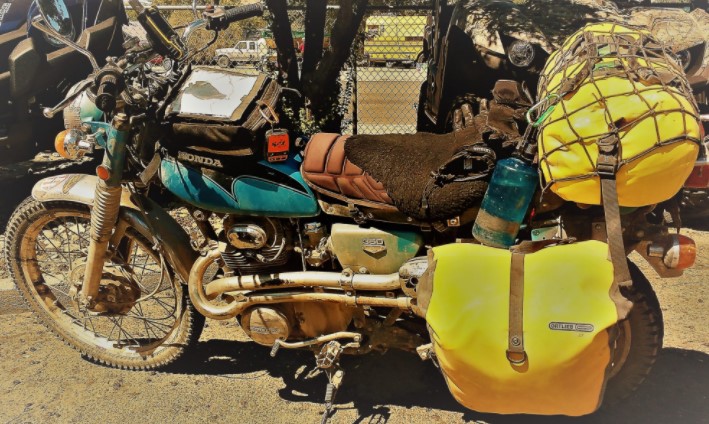 Below are some of the items to pack on a motorcycle trip across the country:
Sunglass: Riding a motorcycle across the country often exposes your face and eyes to the sun and other harmful elements. Taking a sunglass with you shields your eyes from the sun and enables you to see well.
Cellphone and Charger: One of the main items to go on a motorcycle trip across the country is a cellphone. The cellphone enables you to communicate with the people at your preferred destination and call others or check Google maps for directions.
Extra Cash: Going along with extra cash is essential for a motorcycle trip across the country. The money allows you to pay for fuel, feeding, accommodation, and any other expenses that come up along the way.
First Aid Kit: There are dangers and limitations for embarking on a motorcycle trip across the country alone. Taking a First Aid kit is ideal if you sustain an injury or fall sick during the journey.
Rain Jacket: A motorcycle trip across the country means you will likely spend long hours on the road or out in the open. Taking a rain jacket while preparing for the trip will offer you some protection when it rains.
Re-Usable Water Bottles: Taking reusable water bottles helps you preserve water while on a motorcycle trip across the country. You will not always see where to buy water from along the way, so a reusable water bottle allows you to carry enough water without purchasing a new bottle constantly.
Road Map: A physical map is one of the main things to carry along while on a motorcycle trip across the country. This road map gives you detailed directions of where to go, stops to make, and places to sleep for the night.
Motorcycle Cover: It is ideal for carrying a portable cover for your motorcycle while traveling across the country. You can cover the bike for added protection from rain, snow, and other harmful elements while you are resting at a motel.
Where To Sleep When Riding Motorcycle Cross Country?
When planning a motorcycle trip across the country, the first and most important question you need to answer is where to sleep? I mean, all it takes is a comfy bed, wifi connection, and good service, right? Well, it's more complicated than that.
In reality, security should be your top priority while riding a motorcycle crosscountry. We'll get into more details in the next segment of this article, but first, let's find out a few ideal places where you can sleep while on a motorcycle trip across the country.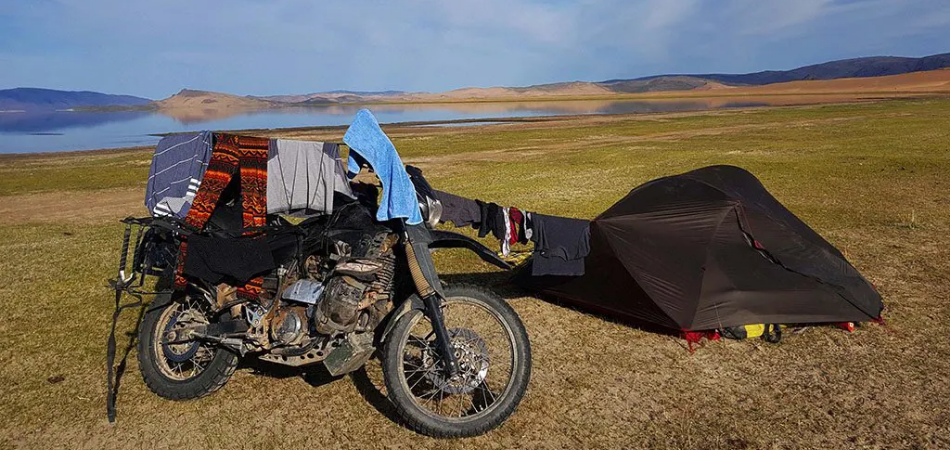 Homes of Distant Relatives: Spending the night with distant relatives should be the first natural idea that comes to mind while planning a motorcycle trip cross-country. This way, you won't have to worry about security, food, or any other conveniences at all.
National Park Camps: The national park is another place to consider spending the night on a motorcycle trip across the country. Park are generally protected and set aside by the federal government and can accommodate travelers who wish to spend the night. These camps assign a food storage locker, picnic table, fire ring, and a designated area for parking your motorcycle.
Cheap Hotels: A budget hotel will give you a decent place to stay at a low price while on a motorcycle trip across the country. Though, don't expect to get too many perks while staying at a budget hotel, asides from a place to sleep for the night. When looking for a budget hotel for your motorcycle trip, reviews on websites are recommended to get a good idea of what you will get for your money.
With Internet Forum Friends: Motorcycle forums on the internet are an easy and fast way to make friends with shared interests. If you reach out to such forums seeking accommodation for a single night, the positive responses may even surprise you. Riders are a huge and helpful community, and many of them will ask you to stay at their home or at least meet while you are in their town. Some of these forum friends could even offer to join you on your motorcycle trip across the country.
Bike-Friendly Motels: Some motels and travel hostels cater to bikers and other things related to the motorcycle community. You can check in any time you like and park your motorcycle without a worry.  Besides, many conventional hotels have adopted a new attitude towards motorcycle guests and now offer unique designated spots for parking motorcycles.
Safety Tips For Your Cross Country Motorcycle Trip
A motorcycle trip across the country can be exciting and satisfying. However, you must follow some safety tips to ensure that your journey is smooth and hitch-free. Some of the safety tips to follow during a motorcycle trip include: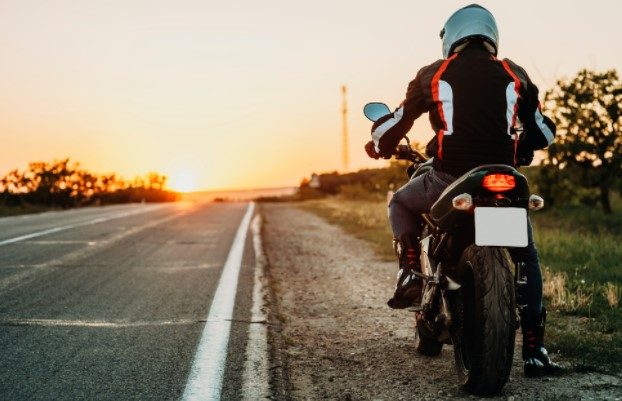 Consider Taking a Friend Along: Taking a friend or someone on a motorcycle trip across the country can be a lifesaver. You will have someone to talk to, which makes the trip a bit safer and more enjoyable. Traveling alongside a friend is a good idea considering you will be away from other people for an extended period.
Install Travel Apps: You can consider adding travel apps to your smartphone while on a motorcycle trip to save you some money on expensive hotels and other expenses. You can find apps that offer better rates and better accommodating options at great prices.
Bring Along the Necessary Items: You may consider taking a few necessities for the motorcycle trip to be on the safe side. Some of these essential items include:

Cellphone charger
First aid toolkit
Flashlight
GPS tracker
Spare tire
Extra cash for miscellaneous expenses
Snacks and reusable water bottles

Plan Regular Stops: Make it a point to always stop regularly for drinks and food while on a motorcycle trip across the country. These stops are vital because you still sweat while riding the bike, even in more excellent conditions. It will help if you stay alert and hydrated at all times by replenishing your food and water supply regularly.
Checking the Weather Conditions: Always check the weather forecasts regularly to avoid running into harsh climate conditions during your motorcycle road trip. Knowing the weather condition is essential since the rider and his motorcycle have minimal protection against these weather changes.
Conclusion
A motorcycle trip is an exciting experience to undertake when taking the proper safety tips and precautions. One of these precautions includes finding a place where to sleep when riding a motorcycle cross country. This article explores the available options. However, it's up to you to decide what method you are comfortable with.