A motorcycle helmet is one of the most essential tools for bikers. Apart from style and aesthetics, a helmet keeps you safe from any potential head injury in case of an accident. Yet unfortunately, this handy gear is not everlasting. This thick inner padding, lining, and most of the inner layers get damaged over time. Besides, dust and debris cause scratches on the exterior as well, no matter how durable the materials are.
So, how do you stop this from happening? It's a hard truth that many of us bikers aren't fully aware of how to store a motorcycle helmet.
The thing is, there are many ways you can store your motorcycle helmet, such as using a padded helmet bag, shelf, cabinet, storage rack, hook and more. However, the best option is to use a portable helmet case. You can even mount one of these on your bike as well. Store and carry- two birds with one stone!
But, specific application requires specific situation, so not all these methods may apply for you. Again, not many of us know what things to consider while storing a motorcycle helmet.
So, let's find out together how you can store a motorcycle helmet without causing any damage and what benefits these methods will convey.
Why You Need Proper Motorcycle Helmet Storage?
Proper motorcycle helmet storage is crucial if you plan to use your helmet for a longer period. If not stored properly, the padding inside can take quite the hit, and the condition of your helmet can greatly deteriorate. Your motorcycle helmet's proper maintenance and storage are essential for several reasons.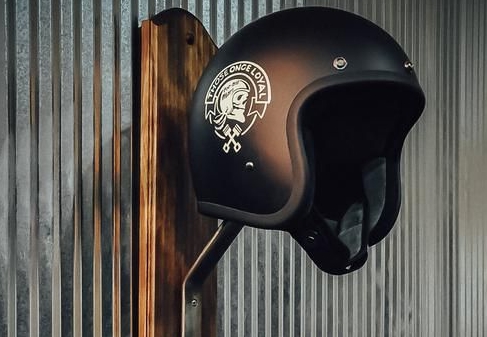 Firstly, you want to protect your head in case of an accident. More than likely, you don't want your face to be the first thing that hits the ground when you crash.
Secondly, helmets are designed to absorb shock and can be damaged by falling over or being bumped into while they are out of their storage space.
The principal thing is that you need to properly store your motorcycle helmet for your safety. If the helmet is bad, you are likely not going to use it, which makes you prone to any injury in an accident.
You should know that improper storage of the helmet will shorten the lifespan or affect the quality and expose you to more danger. Therefore, you should never store your helmet in an unsafe place.
Also, helmets placed in non-ventilated areas may become too warm and cause the EPS foam inner lining to deform, rendering your helmet useless.
Things to Consider when Storing Your Motorcycle Helmet?
When storing your motorcycle helmet for a long period or planning to not use it for an extended period, some special considerations should be considered. The three main factors you need to consider are exposure to sunlight, exposure to moisture, and exposure to heat.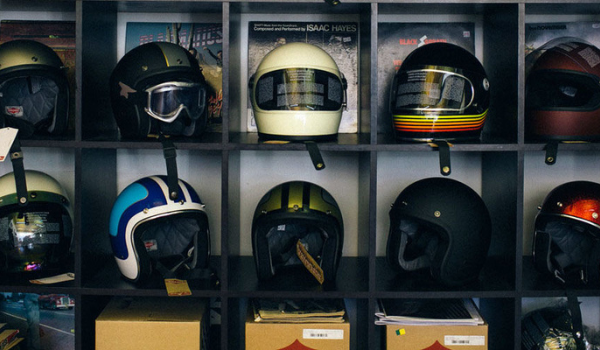 Exposure to any three elements will likely destroy or damage the helmet. However, there are some other considerations, but the three are special factors to consider.
Prevent Exposure to Sunlight
Storing your helmet with any sunlight exposure will affect the materials inside the helmet and can affect the paint on the outside of the helmet. If you are storing your helmet for a short period, removing any padding inside and closing the visor to keep out any direct light will be your best bet.
Also, the importance of preventing your helmet from exposure to sunlight is that the UV rays break down the polycarbonate composite, weakening the shell and making it brittle. Never store your helmet in direct sunlight for extended periods, as UV rays can damage it within a few hours.
Prevent Exposure to Moisture
Storing your motorcycle helmet in a cool, dry place is ideal for preventing mildew and lingering odors. To keep your helmet in prime condition, you should periodically remove the liner and wash and dry it separately.
Your helmets must be stored in a clean, dry place to prevent mildew from forming inside. Mildew damages the inner liner, weakening the helmet's ability to protect the head.
In addition, putting your helmet in the shower or a wet area will surely damage it. Helmets are made of different materials, and some of them, particularly carbon fiber ones, can have their protective layers peel off if they get wet.
Prevent Exposure to Heat
Heat and humidity can be tough on motorcycle helmets. If you want to keep your helmet in good condition, store it in a cool place away from any sources of heat and humidity like the kitchen sink or bathroom shower.
A helmet's shell can lose up to 20 percent of its strength when subjected to increased heat and humidity. If you desire to keep your helmet looking good as new for as long as possible, it's best to store it in a cool place where it won't be exposed to heat.
How to Store Motorcycle Helmet?
Taking care of your motorcycle helmet is essential to keeping it in top condition, especially if you plan to use it year-round. If you are not using the helmet, you should do well to store it in the right way. It can be challenging, but here are ways you can store your helmet perfectly.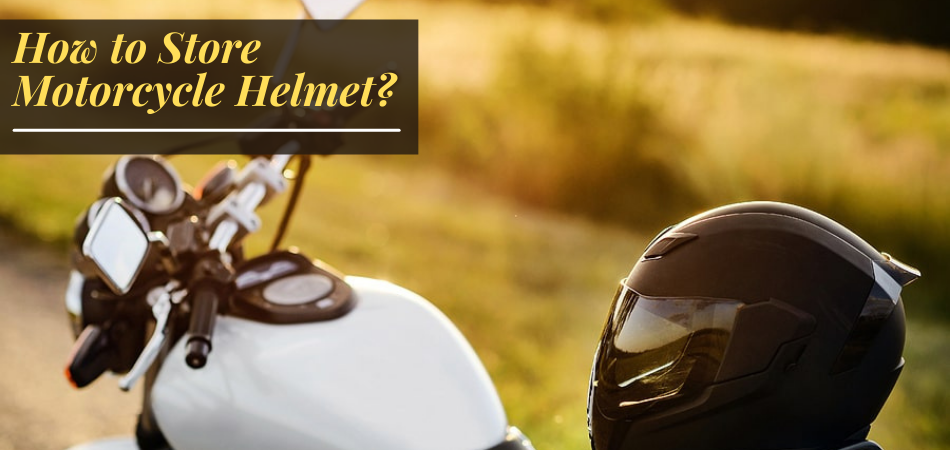 1. Using Helmet Case
If you are a biker or a motorcyclist and wish to store your helmet away, one of the best options is using a helmet case. A helmet case helps you keep your helmet in a safe place and prevents it from becoming damaged.
The fact is that helmet cases are designed to stow away your helmet until you need it again. However, major brands make their cases made from water-resistant material and with a few different kinds of buckles and straps for quick removal.
2. The Use of a Helmet Storage Box
By using a helmet storage box, you will protect your helmet investment. You will keep it clean and also save yourself the financial stress of getting a new helmet soon. There are many storage boxes that you can consider online and in some local stores.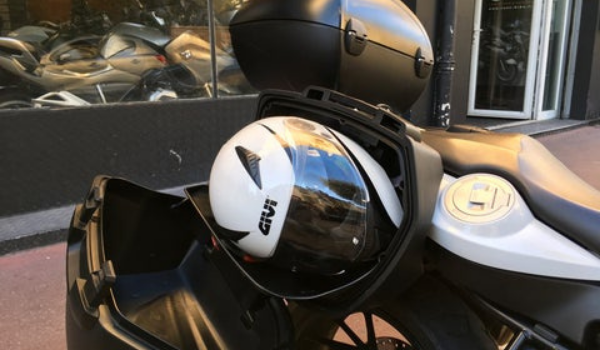 However, when getting a box for your helmet, you need to be concerned about the interior design and material of the box. Some are not safe for your helmet and can leave marks or scratches on the exterior of the helmet.
Always check to see that an interior is a safe place for you to keep your helmet not only for a short time but also for a longer period.
3. Helmet Bag
Helmet bags are much cheaper than others, and it is better for the helmet as well. It provides a more safe and secure way to carry your helmet. It goes beyond carrying as the major concern is on storing the helmet for a longer period.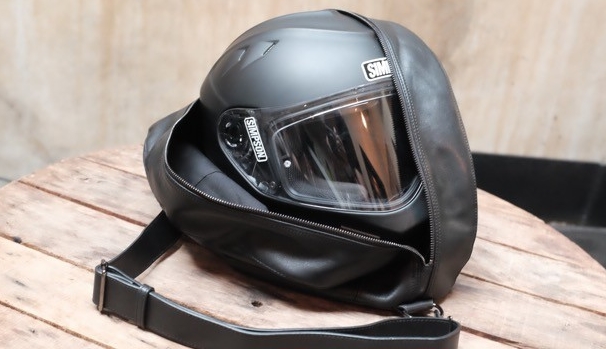 It is not the first option to consider if you are looking for a way to store your helmet. However, it thus makes it easy and safe for you to carry your helmet from one place to another. It also provides effective protection against rain, and the bag helps increase the helmet's lifespan.
4. Storage Cabinet
One of the most popular ways to store helmets is using a storage cabinet. Aside from the helmet, you can also place some other motorcycle equipment or gears in it.
Also, considering your helmet safety, a good storage cabinet is the best option. The helmet should be stored securely and protected from environmental factors like excessive light and heat, or else it will degrade quickly.
5. Storage Shelf
Your shelf is another option you should consider to store your helmet. You just need to ensure that the shelf is not closer to any source of heat, sun, or moisture that could damage the helmet. Also, you need to ensure it is not within reach of anyone.
The best thing is to have a shelf that has security to easily lock with a key and be so sure that the helmet is safe.
6. The Use of Locker
Most bedroom wardrobes come with a locker, and you can use one to keep your helmet. However, the challenge might be getting the helmet into the locker because of the size. So, you might want to build or purchase a separate locker for your helmet.
It might be quite difficult to get the exact size of the locker that will accommodate your helmets. So, you should give the specification and dimension of what you want to the furniture expert to build one. Also, the number of helmets you have will determine the size of the locker.
7. Storage Rack
The Magicfour Helmet Holder is the perfect choice for me because of its easy operation and effectiveness in keeping the helmet safe. The storage rack is one of the ways you can store the helmet. You just need to fasten the holder on your wall and ensure it is firm.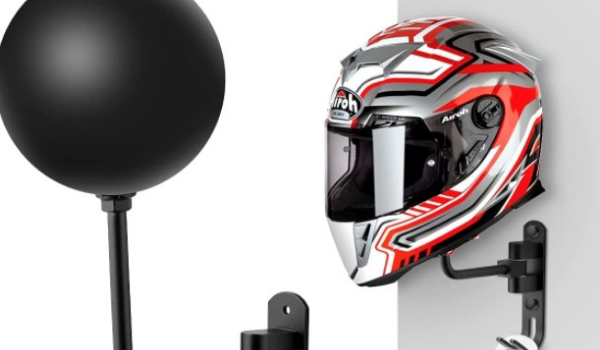 Place your helmet on it and ensure it sits perfectly. You need to ensure that you do not have the holder of moisture or direct UV rays or heat.
What Not to Do when Storing Your Motorcycle Helmet?
Truly the longevity of your helmet depends on how you handle and store it. If you mishandle the helmet, it is inevitable for you to get another one soon. Therefore, to avoid damages, here are things you should not do when storing your motorcycle helmet.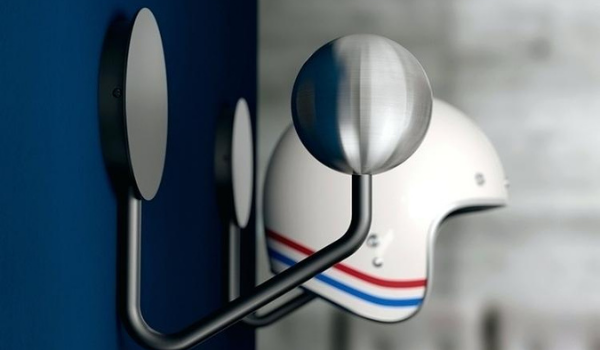 Never expose your helmet to sunlight
Never expose your helmet to heat
Never expose your helmet to moisture
Never store the helmet with moisture in the inner foam
Never position the helmet where it can easily fall off
Conclusion
If you want to learn how to store motorcycle helmet in a priceless way, then you are just in the right place. There are many unproductive ways you will find out online that will damage the helmet. Therefore, we have you secured.
On this page, you get to learn more about different ways you can store your helmet with things you can do to prolong the lifespan of your helmet.